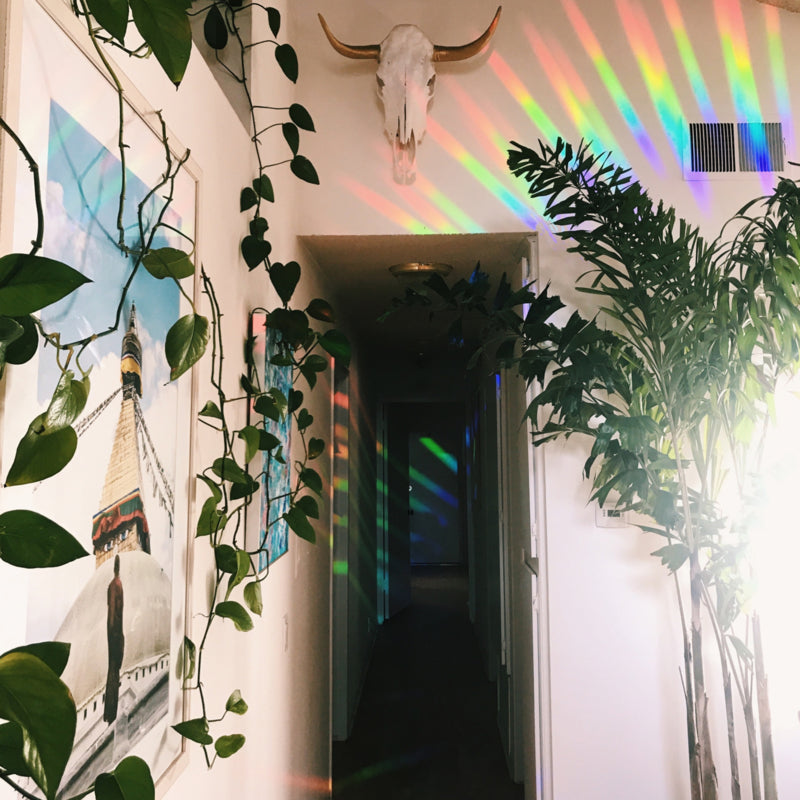 Rainbow maker window decals
Do you want to cheer someone up? Send a window sticker that gives rainbows . Stick it on a window with direct sunlight and your home, office or car will be filled with color and optimism! The stickers come with a card. With a nice message on the inside you have a fantastic gift through the mailbox .
Window sticker that gives rainbows
Window sticker does not leave adhesive residue
Including double card with blank inside & envelope
Also easy to send as a letterbox gift
Regenboogmakers
De regenboog maakt ons blij en geeft ons hoop en troost. Het is een belofte voor een nieuw begin, een symbool voor een lichtpuntje in moeilijke tijden en geeft kleur.
Er is maar 1 klein zonnestraaltje nodig om een donkere regenbui omtetoveren tot een prachtige regenboog! De regenboog zou dus een prachtig cadeautje zijn voor iemand die je een hart onder de riem wilt steken of wilt laten weten dat je er voor hem of haar bent. Ware het niet dat zo'n regenboog toch wat, tja.... lastig geven is ;) Daarom zijn deze raamstickers een prachtig symbolisch cadeau voor iemand die wel een klein regenboogje kan gebruiken!
Kies het ontwerp wat het beste bij de gelegenheid past. Misschien zoek je een mooi welkomst cadeau voor een baby? Dan is bijvoorbeeld de eenhoorn of de raket leuk. Wil je iemand een echte optimisme boost geven, stuur dan bijvorbeeld 'You Got This' of 'Good things are coming'. Of misschien zijn er nog wat extra helende krachten nodig van wat edelstenen.